Episode 32 – Ghostbusters, Roubas, Elysian Park Treasure, Nazi's and a Family in Jail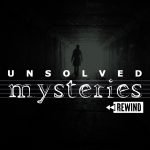 In this episode Kim and Mark discuss Season 7, Episode 2 of Unsolved Mysteries.

Ghostbusters
Roubas: Dead or Alive?
Elysian Park Treasure
Soldier Alexander
Jail Family
Join us this week as we discuss hotel hauntings, toilet pits, tooth extractions and long lost siblings! We also examine a harsh forum post for clues about the identity of an American soldier in Nazi Germany.
As always, thank you to Mat Graham from Artificial Fear for allowing us to use his amazing cover of the Unsolved Mysteries Theme Song! Check out his YouTube Channel here: https://www.youtube.com/channel/UCoQNyGGSIl_ZbEDq-teZDWQ
And thank you to Ryan Hughes from Planet H for lending us his spot-on "Stack Voice" and working with us to have such a cool intro and outro! Check out his YouTube Channel here: https://www.youtube.com/channel/UCYrlNAFRMlWQN1rhWboZh2g