Unsolved Mysteries Rewind EP16: Dave Davis, George Marsh, Aeileen and Honeymoon Bones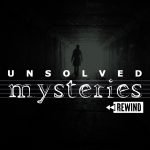 In this episode Kim and Mark discuss Season 1, Episode 1 of Unsolved Mysteries.
Wanted: Dave Davis
Update: George Marsh
Unexplained Death: Aeileen Conway
Mysterious Legends: Honeymoon Bones
Missing Persons: Dottie Caylor
Join us this week as we discuss the premier episode of Unsolved Mysteries… on Amazon Prime, that is! We talk about 'Victim of Love' Shannon Mohr, George Marsh's heirs, and benevolent housewife Aeileen Conway. We also leave our life jackets behind for a trip to the Grand Canyon, and end with a murder suspect who is currently VERY active on Facebook!
As always, thank you to Mat Graham from Artificial Fear for allowing us to use his amazing cover of the Unsolved Mysteries Theme Song! Check out his YouTube Channel here: https://www.youtube.com/channel/UCoQNyGGSIl_ZbEDq-teZDWQ
And thank you to Ryan Hughes from Planet H for lending us his spot-on "Stack Voice" and working with us to have such a cool intro and outro! Check out his YouTube Channel here: https://www.youtube.com/channel/UCYrlNAFRMlWQN1rhWboZh2g