Unsolved Mysteries Rewind: EP25: Short Walk Home, Dinnertime Bandit, Hell's Angel Fugitive and Breakout Mom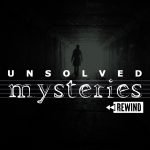 In this episode Kim and Mark discuss Season 10, Episode 7 of Unsolved Mysteries.
A Short Walk Home
Dinnertime Bandit & UD
Bible Code
Missing Florida Baby
Hell's Angel Fugitive
UD: Breakout Mom
Join us this week as we talk about clever cat burglars, future-telling Torahs, Canadian prison guards and Jon Bon Jovi. We also discuss the premature death of Katherine Korzilius and the colorful life of a midwestern video store owner.
As always, thank you to Mat Graham from Artificial Fear for allowing us to use his amazing cover of the Unsolved Mysteries Theme Song! Check out his YouTube Channel here: https://www.youtube.com/channel/UCoQNyGGSIl_ZbEDq-teZDWQ
And thank you to Ryan Hughes from Planet H for lending us his spot-on "Stack Voice" and working with us to have such a cool intro and outro! Check out his YouTube Channel here: https://www.youtube.com/channel/UCYrlNAFRMlWQN1rhWboZh2g