Review of Unsolved Mysteries from Netflix Part 2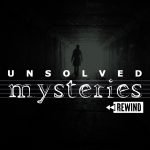 We have binge-watched the new Netflix episodes of Unsolved Mysteries and in this special mini episode we bring you our thoughts on episodes 4 – 6.
Join us as we talk about reopened cases, racial tension, alien abductions and one of the worst moms in America!
Spoilers ahead!
As always, thank you to Mat Graham from Artificial Fear for allowing us to use his amazing cover of the Unsolved Mysteries Theme Song! Check out his YouTube Channel here: https://www.youtube.com/channel/UCoQNyGGSIl_ZbEDq-teZDWQ
And thank you to Ryan Hughes from Planet H for lending us his spot-on "Stack Voice" and working with us to have such a cool intro and outro! Check out his YouTube Channel here: https://www.youtube.com/channel/UCYrlNAFRMlWQN1rhWboZh2g