Episode 10: Brandon Lee, Jodi Huisentruit, Antonio "Tony" Castro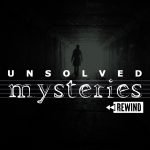 In this episode Kim and Mark discuss Season 8, Episode 1 of Unsolved Mysteries.
Unexplained Death: Brandon Lee
Missing: Jodi Huisentruit
Lost Loves: the Wismer/Carlsen Baby
Wanted: Antonio "Tony" Castro
The Unexplained: Gulf P.O.W. Dream.
Join us this week as we talk about the very explained death of actor Brandon Lee, how awful it is to be a woman, trauma bonding with your first love, oddly placed sexual tension in reenactments and a psychic dream between friends.
As always, thank you to Mat Graham from Artificial Fear for allowing us to use his amazing cover of the Unsolved Mysteries Theme Song! Check out his YouTube Channel here: https://www.youtube.com/channel/UCoQNyGGSIl_ZbEDq-teZDWQ
And thank you to Ryan Hughes from Planet H for lending us his spot-on "Stack Voice" and working with us to have such a cool intro and outro! Check out his YouTube Channel here: https://www.youtube.com/channel/UCYrlNAFRMlWQN1rhWboZh2g