Update: Shurlock Holmes discusses Tammy Lynn Leppert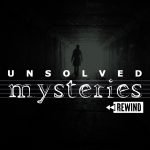 Join us for a special mini episode of Unsolved Mysteries Rewind! 
We had the pleasure of speaking with skilled crime blogger Anthony AKA Shurlock Holmes!  You have heard us reference his research in the Tammy Lynn Leppert case, and he joins us today to shed a little more light on this tragic case. 
You can find a wealth of information on Tammy Lynn (as well as other missing persons cases) here:
https://www.crimeblogger1983.blogspot.com
You can find Anthony's podcast here:
https://evidentiarypodcast.podbean.com/
As always, thank you to Mat Graham from Artificial Fear for allowing us to use his amazing cover of the Unsolved Mysteries Theme Song! Check out his YouTube Channel here: https://www.youtube.com/channel/UCoQNyGGSIl_ZbEDq-teZDWQ
And thank you to Ryan Hughes from Planet H for lending us his spot-on "Stack Voice" and working with us to have such a cool intro and outro! Check out his YouTube Channel here: https://www.youtube.com/channel/UCYrlNAFRMlWQN1rhWboZh2g