Unsolved Mysteries Rewind EP13: David Lee Kemp, Internet Abduction & Love is Blind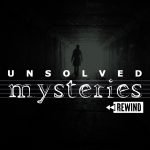 In this episode Kim and Mark discuss Season 11, Episode 12 of Unsolved Mysteries.
Suspect Turned Victim & UD
David Lee Kemp & UD
Internet Abduction & UD
Love is Blind
Join us as we break down this heavy episode. We reveal unlikely killers in Missouri, fun reenactments in junkyards and internet panic in the year 2000. We thankfully end on a high note with a happy update!
As always, thank you to Mat Graham from Artificial Fear for allowing us to use his amazing cover of the Unsolved Mysteries Theme Song! Check out his YouTube Channel here: https://www.youtube.com/channel/UCoQNyGGSIl_ZbEDq-teZDWQ
And thank you to Ryan Hughes from Planet H for lending us his spot-on "Stack Voice" and working with us to have such a cool intro and outro! Check out his YouTube Channel here: https://www.youtube.com/channel/UCYrlNAFRMlWQN1rhWboZh2g