Unsolved Mysteries Rewind EP6: Death of a Rock Star, Home Invasion and Fertility Statues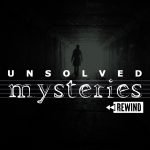 In this episode Kim and Mark discuss Season 9, Episode 3 of Unsolved Mysteries.
Unexplained Death: Death of a Rock Star
Update: Amish Hostage Murder
Investigators: Terror by the Book
Wanted: Home Invasion Spree
The Unexplained: Fertility Statues
What is the most likely cause of Bobby Fuller's death? How long does it take to brainwash someone? Is red mercury real? What's the last thing you want to hear your mother say? Is it appropriate to put fertility statues in a corporate office?
We answer all these questions and more on this week's episode of Unsolved Mysteries Rewind!
As always, thank you to Mat Graham from Artificial Fear for allowing us to use his amazing cover of the Unsolved Mysteries Theme Song! Check out his YouTube Channel here: https://www.youtube.com/channel/UCoQNyGGSIl_ZbEDq-teZDWQ
And thank you to Ryan Hughes from Planet H for lending us his spot-on "Stack Voice" and working with us to have such a cool intro and outro! Check out his YouTube Channel here: https://www.youtube.com/channel/UCYrlNAFRMlWQN1rhWboZh2g