Unsolved Mysteries Rewind EP11: Jeremy Bright, Michaela Garecht, Officer John Martin and Tatum's Ghost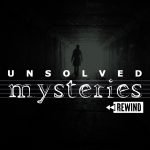 In this episode Kim and Mark discuss Season 1, Episode 14 of Unsolved Mysteries.
Missing Persons: Jeremy Bright
Unexplained Death: Officer John Martin
Lost Heirs: Heirs of Dan Willans
Wanted: Leo Koury
Wanted: the Kidnapper of Michaela Garecht
The Unexplained: Tatum's Ghost

This week we break down the internet's theories of what happened to Jeremy Bright, discuss the double life of gold-digger Dan Willans, and talk about the flourishing gay scene in Richmond, Virginia. Along the way we discuss weak reenactments, the many monsters terrorizing California in the 1980s, and what happens when prank wars go too far!
As always, thank you to Mat Graham from Artificial Fear for allowing us to use his amazing cover of the Unsolved Mysteries Theme Song! Check out his YouTube Channel here: https://www.youtube.com/channel/UCoQNyGGSIl_ZbEDq-teZDWQ
And thank you to Ryan Hughes from Planet H for lending us his spot-on "Stack Voice" and working with us to have such a cool intro and outro! Check out his YouTube Channel here: https://www.youtube.com/channel/UCYrlNAFRMlWQN1rhWboZh2g