Unsolved Mysteries Rewind – EP 34: Getaway Photo, Looking for Angeline, Nine Lives, Mom and Pop Murders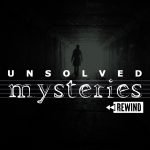 In this episode the discussion is on Season 4, Episode 19 of Unsolved Mysteries.
Getaway Photo
Looking for Angeline
Nine Lives
Mom & Pop Murders
Join us this week as we discuss the sad lives of the Vess children, Barney & Angeline Dewey and Joe & Mattie "Teat" Harvey. We also learn an important life lesson: never pay your boyfriend's bail in cash!
As always, thank you to Mat Graham from Artificial Fear for allowing us to use his amazing cover of the Unsolved Mysteries Theme Song! Check out his YouTube Channel here: https://www.youtube.com/channel/UCoQNyGGSIl_ZbEDq-teZDWQ
And thank you to Ryan Hughes from Planet H for lending us his spot-on "Stack Voice" and working with us to have such a cool intro and outro! Check out his YouTube Channel here: https://www.youtube.com/channel/UCYrlNAFRMlWQN1rhWboZh2g