Unsolved Mysteries Rewind – EP 35: Sneha Philip, Souvenir Killer, Bowen out and Fallen Star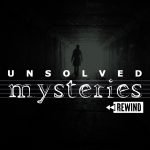 In this episode the discussion looks at Season 12, Episode 3 of Unsolved Mysteries.

Ground Zero
Arizona Souvenir Killer
Bowen Out
Fallen Star
Join us this week as we discuss the mysterious disappearance of Dr. Sneha Philip. Along the way we question police methods in the Diane Shawcroft & Jenny Lueth investigation, review Jerry Lee Bowen's browser history and speculate wildly about Star Palumbo.
As always, thank you to Mat Graham from Artificial Fear for allowing us to use his amazing cover of the Unsolved Mysteries Theme Song! Check out his YouTube Channel here: https://www.youtube.com/channel/UCoQNyGGSIl_ZbEDq-teZDWQ
And thank you to Ryan Hughes from Planet H for lending us his spot-on "Stack Voice" and working with us to have such a cool intro and outro! Check out his YouTube Channel here: https://www.youtube.com/channel/UCYrlNAFRMlWQN1rhWboZh2g