Unsolved Mysteries Rewind – Ep 36: Backyard Bones, Guilty Twins, Ghosts in Court and Sharon Kinne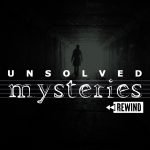 In this episode we discuss Season 10, Episode 6 of Unsolved Mysteries.
Backyard Bones
Twin Behind Bars
Ghost Goes to Court
Sharon Kinne
Join us this week as we discuss a haunted cottage, wily twins and La Pistolera! We also wonder just what a man has to do to be charged with his wife's murder in Texas.
As always, thank you to Mat Graham from Artificial Fear for allowing us to use his amazing cover of the Unsolved Mysteries Theme Song! Check out his YouTube Channel here: https://www.youtube.com/channel/UCoQNyGGSIl_ZbEDq-teZDWQ
And thank you to Ryan Hughes from Planet H for lending us his spot-on "Stack Voice" and working with us to have such a cool intro and outro! Check out his YouTube Channel here: https://www.youtube.com/channel/UCYrlNAFRMlWQN1rhWboZh2g