Unsolved Mysteries Rewind – EP27: Bordeaux Murder, Salsa Swindler, Hotel Balcony Death, Amber Swartz, Poison Shake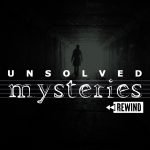 In this episode Kim and Mark discuss Season 11, Episode 8 of Unsolved Mysteries.
Bordeaux Murder
Salsa Swindlers & UD
UD: Hotel Balcony Death
Amber Swartz & UD
UD: Poison Shake
Join us this week as we discuss con artists, angry sons, backwards letters and murders on a Kansas reservation. Asi Asi!

As always, thank you to Mat Graham from Artificial Fear for allowing us to use his amazing cover of the Unsolved Mysteries Theme Song! Check out his YouTube Channel here: https://www.youtube.com/channel/UCoQNyGGSIl_ZbEDq-teZDWQ
And thank you to Ryan Hughes from Planet H for lending us his spot-on "Stack Voice" and working with us to have such a cool intro and outro! Check out his YouTube Channel here: https://www.youtube.com/channel/UCYrlNAFRMlWQN1rhWboZh2g