Unsolved Mysteries Rewind – Our Halloween Episode! Friendly Ghost, Vision Quest, Miss Katie and Reincarnation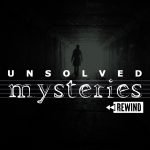 In this special Halloween episode Kim and Mark discuss Season 3, Episode 7 of Unsolved Mysteries.
Friendly Ghost
Vision Quest & UD
Powers of Miss Katie
Update: Reincarnation 
Join us this week as we discuss hurricane harbingers, past lives, gold leaf excretions and getting to know oneself through psychedelics.
James Randi
http://www.randi.org
https://en.wikipedia.org/wiki/James_Randi

Lawrence Millman
http://lawrencemillman.com/
Jeffrey Mishlove and Stephen E. Braude on Katie – the gold leaf lady
https://www.youtube.com/watch?v=p5eY3yfDIg0&t
As always, thank you to Mat Graham from Artificial Fear for allowing us to use his amazing cover of the Unsolved Mysteries Theme Song! Check out his YouTube Channel here: https://www.youtube.com/channel/UCoQNyGGSIl_ZbEDq-teZDWQ
And thank you to Ryan Hughes from Planet H for lending us his spot-on "Stack Voice" and working with us to have such a cool intro and outro! Check out his YouTube Channel here: https://www.youtube.com/channel/UCYrlNAFRMlWQN1rhWboZh2g