Unsolved Mysteries Rewind – EP42: The Kidnapping of John Grundhofer and the Murder of the Hansen Twins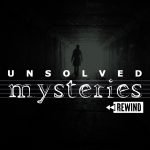 In this episode, Lindsay and Mark discuss Season 6 Episode 8 of Unsolved Mysteries
We discuss so much such as:
Kidnapped Executive
Hansen Twin Murder (Pts. 1 & 2)
NATO Soldier's Dad.
There is a lot in this episode including why it might be weird to handcuff dynamite to ones wrist, theories surrounding a mysterious fire that would turn fatal for twins and finally what happens when a summer fling goes too far!
Thank you to Mat Graham from Artificial Fear for allowing us to use his amazing cover of the Unsolved Mysteries Theme Song! Check out his YouTube Channel here: https://www.youtube.com/channel/UCoQNyGGSIl_ZbEDq-teZDWQ
And thank you to Ryan Hughes from Planet H for lending us his spot-on "Stack Voice" and working with us to have such a cool intro and outro! Check out his YouTube Channel here: https://www.youtube.com/channel/UCYrlNAFRMlWQN1rhWboZh2g