Unsolved Mysteries Rewind 50: Scared To Death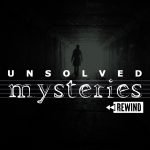 Was it suicide, or was it murder?
Travel back to British Columbia with Mark & Amy as we take a look at Cindy James. A woman who was either severely mentally ill, or who was being wrongly accused by the RCMP.
Was she really being serially attacked?
Was she attacking herself?
Did she have multiple personalities
Was she of a clear, healthy mind?
Join us, as we attempt to unravel the case that has been aptly named…Scared To Death, episode below!
Thank you to Mat Graham from Artificial Fear for allowing us to use his amazing cover of the Unsolved Mysteries Theme Song! Check out his YouTube Channel here: https://www.youtube.com/channel/UCoQNyGGSIl_ZbEDq-teZDWQ
And thank you to Ryan Hughes from Planet H for lending us his spot-on "Stack Voice" and working with us to have such a cool intro and outro! Check out his YouTube Channel here: https://www.youtube.com/channel/UCYrlNAFRMlWQN1rhWboZh2g