Unsolved Mysteries Rewind 51: The Watcher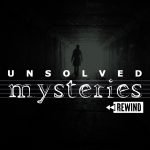 Imagine all the joy & excitement of moving your family into the house of your dreams. As you and your children move about the house, doing renovations and exploring…you find out you are all being watched. This is what happened to Derek & Maria Broaddus. They would find threatening notes in their mailbox for years, never knowing who was watching, and how they knew all about this family.
Join Mark & Amy as they take the small East Coast town of Westfield, New Jersey to dive in to the Case of The Watcher.
Thank you to Mat Graham from Artificial Fear for allowing us to use his amazing cover of the Unsolved Mysteries Theme Song! Check out his YouTube Channel here: https://www.youtube.com/channel/UCoQNyGGSIl_ZbEDq-teZDWQ
And thank you to Ryan Hughes from Planet H for lending us his spot-on "Stack Voice" and working with us to have such a cool intro and outro! Check out his YouTube Channel here: https://www.youtube.com/channel/UCYrlNAFRMlWQN1rhWboZh2g