Unsolved Mysteries Rewind 52: Todd McAfee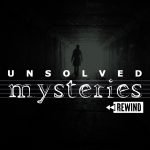 On the morning of August 18, 1987, Todd McAfee has not unlocked the gates of the sprawling 300-acre tomato farm he manages to let his workers in for the day. A short time later, Todd's assistant Adam opens the gates and it is immediately apparent that something is very wrong. His truck isn't parked behind his car, as it usually is. His home is in complete disarray, and his gun collection is missing. Upon further inspection of Todd's truck, the keys are still in the ignition, last night's groceries still lying there, and Todd's glasses are in the bed of the truck…covered in blood.
A few miles away, a truckload of Todd's employees are at a drainage ditch, looking for water for their overheated truck. There, they find Todd McAfee lying in the drainage ditch. He was shot 4 times.
Join Mark & Amy in their first "missing segment" episode of Unsolved Mysteries Rewind. This will be our last episode of 2021, and you will NOT want to miss what we have in store in 2022!
We wish you Happy Holidays & a very Happy New Year! We will see you in 2022!
Thank you to Mat Graham from Artificial Fear for allowing us to use his amazing cover of the Unsolved Mysteries Theme Song! Check out his YouTube Channel here: https://www.youtube.com/channel/UCoQNyGGSIl_ZbEDq-teZDWQ
And thank you to Ryan Hughes from Planet H for lending us his spot-on "Stack Voice" and working with us to have such a cool intro and outro! Check out his YouTube Channel here: https://www.youtube.com/channel/UCYrlNAFRMlWQN1rhWboZh2g