Unsolved Mysteries Rewind 54: The Murder of Wendy Camp, Cynthia Britto, and Lisa Kregear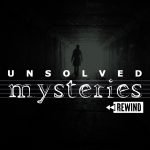 ​This week, Mark and Catharine discuss a case with a shocking update.  Wendy Camp, her sister in law Lisa Renee Kregear, and Wendy's daughter Cynthia went missing after going to visit Wendy's son Jonathan.  The trio went missing in the early 90's.  Stay tuned to listen on our take on a case that was solved in our adult lives, and what case we would most like to see solved.
Please join Mark and Catharine as we discuss this shocking case. 
Thank you to Mat Graham from Artificial Fear for allowing us to use his amazing cover of the Unsolved Mysteries Theme Song! Check out his YouTube Channel here: https://www.youtube.com/channel/UCoQNyGGSIl_ZbEDq-teZDWQ
And thank you to Ryan Hughes from Planet H for lending us his spot-on "Stack Voice" and working with us to have such a cool intro and outro! Check out his YouTube Channel here: https://www.youtube.com/channel/UCYrlNAFRMlWQN1rhWboZh2g