Unsolved Mysteries Rewind 76: The Chair of Death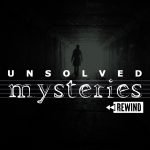 In 1702, a man named Thomas Busby brutally murdered his father-in-law, Daniel Auty.  On his way to the gallows to be hanged, he asked to make a stop at his favorite pub to put a curse on his favorite chair.  He claimed that whoever sat in his chair from that day forward would be haunted and soon die.  After almost 200 years, the deaths started.  It is said that Busby's Chair has killed over 60 people.  Is this chair cursed, or is it just mind over matter? 
Join Mark & Amy as they travel all the way across the pond to Thirsk, England to investigate this creepy urban legend.
Thank you to Mat Graham from Artificial Fear for allowing us to use his amazing cover of the Unsolved Mysteries Theme Song! Check out his YouTube Channel here: https://www.youtube.com/channel/UCoQNyGGSIl_ZbEDq-teZDWQ
And thank you to Ryan Hughes from Planet H for lending us his spot-on "Stack Voice" and working with us to have such a cool intro and outro! Check out his YouTube Channel here: https://www.youtube.com/channel/UCYrlNAFRMlWQN1rhWboZh2g