Unsolved Mysteries Rewind – ep29: Motorcycle Mom, White Bird, Strychnine Death and Missing Mariners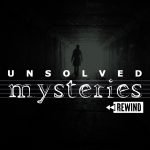 In this episode Kim and Mark discuss Season 1, Episode 23 of Unsolved Mysteries.
Motorcycle Mom
Ready Teller Robbery
White Bird
Strychnine Death
Missing Mariners
Join us this week as we talk updates, eyepatches and poisonings. We also discuss the lengths a mom is willing to go to get justice for her son, and a little touch of humanity in the ravages of WWII.
As always, thank you to Mat Graham from Artificial Fear for allowing us to use his amazing cover of the Unsolved Mysteries Theme Song! Check out his YouTube Channel here: https://www.youtube.com/channel/UCoQNyGGSIl_ZbEDq-teZDWQ
And thank you to Ryan Hughes from Planet H for lending us his spot-on "Stack Voice" and working with us to have such a cool intro and outro! Check out his YouTube Channel here: https://www.youtube.com/channel/UCYrlNAFRMlWQN1rhWboZh2g